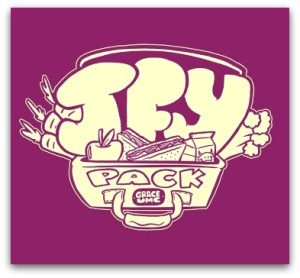 Food Backpack Ministry 
     We provide the students with two breakfasts, two lunches, two drinks, a sweet, a salty, a fruit, peanut butter and jelly.  These items are all small, personal-sized and targeted to being liked by kids.  Since we are not given student names, we don't get much feedback on the lunches.  But every now and then there is a parent who knows someone from the church who is part of this and thanks us for doing what we do.  These weekend lunches are appreciated. 
There are any number of different ways that you can be a part of this ministry.
Because food prices continue to increase, monetary donations are always appreciated.  Just write JFY on the line on your envelope.
Help pack lunches. We pack once a month, except for the summer, and if you can make any part of that time, we would love to see you at the church.
Pray for our program and the kids it reaches. We may never know how these lunches impact the life of a child.
Thank you to each and every one of you for your help and continued support of this program over the years.