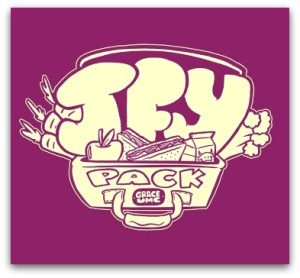 Food Backpack Ministry 
Your JFY Donations Make A Difference ! ~   JFY is a weekend lunch program offered to students in the Millersburg School District who get free or reduced lunches during the school year Volunteers come together once a month to pack bags with food so the students have something to eat over the weekend.  This past year we filled, on average, 55 bags a week.  At 4 weeks per month and 9 months in the school year, that's just shy of 2000 bags.  Each bag contains – 2 individual-size servings of cereal, 2 lunches (usually a microwaveable pasta and a serving of mac & cheese), 2 boxes or pouches of a drink, a serving of fruit, something sweet, something salty, Pop-tart bites, individual peanut butter & jelly servings and at times, a hot chocolate.   To fill one bag, it costs a little over $5 – depending on current prices.  I shop bulk to try to get the best prices possible.  As a former teacher who saw firsthand students going hungry, this program is dear to my heart.  I would like to ask you to please keep these students we serve in your prayers.  Having never gone hungry myself, I can only imagine how difficult it must be.   If you would like to help pack these bags, we would love to have you join us. Please give me your email address and I will add you to my list.  We pack the first Monday of the month – except for September, when it's the first Tuesday.  We also take off for the summer.
We begin set up in the family life center at 3:00 and packing begins somewhere around 3:45 – 4:00, depending on the amount of help. We are typically done around 5:00pm.  If your heart is drawn to help support this ministry, we can also use you monetary donations.  Simply write JFY on one of the blank lines on your church envelope, or use a separate envelope to drop your gift in the plate, or at the church office.
I am so grateful to every single person who supports this ministry . We are truly God's hands and feet as we set out to help those in need in our community.  Thank you, from the bottom of my heart.  Debb Bowman
Thank you to each and every one of you for your help and continued support of this program over the years.