Distribution:  Thursday September 23 , 2021 
For I was hungry and you gave me food, I was thirsty and you gave me drink, I was a stranger and you welcomed me.  Mathew 25:35
 Hearts of Grace is a food-based ministry feeding individuals in our community.  We have aging adults to young children in need of nutrition. Through our congregational donations, we are able to feed 40 to 50 households once a month. Monetary donations are used to purchase fresh meat, milk, eggs and cheese. Canned and dry items are used from the grocery carts placed throughout our church. We also purchase items from the Central Pennsylvania Food Bank to supplement our dry goods donations. Food items for the JFY pack program is also purchased.
Our committee greatly appreciates your continued support of our ministry. With the Holidays soon approaching we are seeking the following items:
Gravy – Turkey or Chicken in cans, jars or dry mixes
Boxed stuffing mixes – Turkey or Chicken flavored
Instant potatoes, Cranberry sauce , Dessert items such as cake mixes and icing, brownie mixes
and cookie mixes
If you need to reach out to our ministry please contact John Ramberger, Diane Nestler, Janine Boyer, Debb Bowman, Carol and Terry Uhler, Karen Travitz, Mark Dreher or Beth Spicher. You can also contact the church secretary Jane Hubler and Pastor Alan and they will contact us.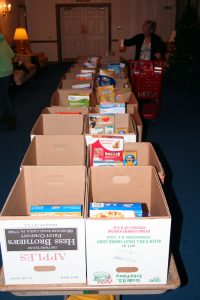 Donations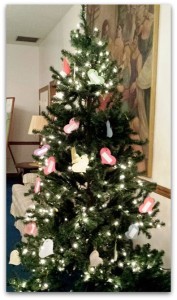 Hearts of Grace Tree